| | | |
| --- | --- | --- |
| | MY HOBBY (When time allows !!) | |
My interest in vintage cars began at an early age. I remember that saw a photo in a Swedish
magazine of an A-Ford from 1929 when I was 12 years old.This lead me on to collecting spare parts
for vintage cars. The first part I found, in my neighbourhood, was a front fender from an A-Ford 1929.

What makes vintage cars so exciting ?
First they are beautiful and have artistic lines which exerts a strong attraction. In some way these
cars create a feeling of "The carefree good old days" when there was no awareness of ozone holes
and environmental pollution etc. Some decades have been more offensive than others, where new
trends, techniques and music have developed. In the world of cars one can see a manifestation in
design, large bodies and bigger engines. In the late 50´s there was a great belief in the future and
cars almost got wings.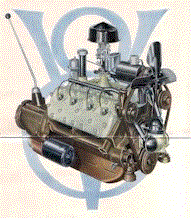 Technical solutions of that time are fascinating, often they
were simpel and elegant but also manufactured of good
old fashion solid material which makes them easy to
restore. These cars are definitely easier to re-utilize than
cars of today will ever be.

The A-Ford and V8-Ford club have yeary "meets" and
joint family meets. The A-Ford club alternate their "meets"
from local meets to Scandinavian meets. These "meets"
usualy have high attendance.



Essentially these "meets" are an opportunity to blow the cobwebs off the cars and air the family
as well as meet others with the same interests. It also gives the opportunity of seeing places in
Scandinavia that otherwise one would not travel to.

Last but not least there is the exiting pleasure of finding spare parts. If you are renovating a
car that is 60 years old spare parts are not all that common. So when you find just that part
you have been looking for it feels like Christmas.Theres a lot of of literature on the market and
one has to be "read up" so as to recognize the part when it crops up.
The most attractive vet. car markets for me are Ekeberg outside Oslo (twice a year),
Södertälje and Eskilstuna. Naturally I visit Uddevalla market which is quite close to where I live.
Previously I often visited Gillstad (Lidköping) and Herning market in Denmark.

Of course magazines are essential for the hunting of spare parts. The most important magazines
of today are Classic Motor, Nostalgia and Wheels. There are´nt any good www-sites, although
Hemmings in America seem to have something on the way and ebay offcourse. On the other hand
there are some "Home sites" just like this one. If anyone has any tips please do´nt hesitate to
contact me.

Unrenovated cars are in my eye the most beautiful. They have perhaps been in tough service for
20 year and then left standing still for 40 years. Fords classical beauties dont need to be street
rods, they are beautiful as they are in their original form. Ok ! triming the engine and dressing it
upp to be a stock car is perhaps a part of todays culture and a personal choice.

I will finish by thanking Ford for their stylistically pure design through the years.
Take a look and enjoy some photo´s borrowed from old original advertisement.

Best Regards: Robert Lundin Start page